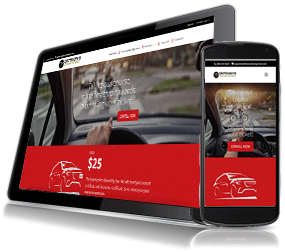 Court Approved Online Defensive Driving Courses
Save Time
Our courses are the shortest allowed by law. You may take the defensive driving course using any device, anytime and from anywhere. We offer instant processing for any situation where your deadline is fast approaching so you don't miss your ticket dismissal deadline.
Save Money
Our courses are the lowest price allowed by law, guaranteed. Not only will you be able to satisfy your court requirement for dismissing your ticket, saving you money on your court fees, you may also save up to 10% on your insurance premium by providing our complimentary insurance certificate to your insurance company.
Dismiss your ticket the easy way!
Our courses are the shortest allowed by law, and you can take the defensive driving course anytime, using any device, from any location. Don't spend your day sitting in a class when you can choose Defensive Driving School instead and complete your course quickly online from the convenience of your home or office.
Exclusive Ticket Protection Guarantee
We offer the only Ticket Protection Guarantee in the business. If you receive a citation within 30 days of course completion we will pay your fine1. There are some restrictions, of course. No reckless driving, no DUI/DWI, and you're limited to speeding 15% over the posted limit. We are so confident you'll be a safer driver – we back it up with cash.