ONLY

$25

The lowest price allowed by law. We will send you a court certificate and insurance certificate. Save money on your insurance premium.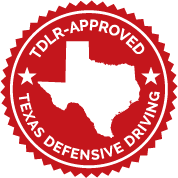 Welcome to Defensive Driving School
Are you looking for a quick, easy online driving safety course? If you need your Texas traffic ticket dismissed or an insurance premium discount, our Texas online driving safety school provides the driver safety training you need. We have been serving Texas Drivers since 1998 with our Texas Department of Licensing and Regulation (TDLR) approved 100% online course. With our defensive driving course you're just a few hours away from:
• Use any device – Desktop. laptop, tablet, smartphone etc.
• Dismissing a ticket and reducing your insurance premium
• Preventing insurance increases
• Improving your driving skills
Register online using your computer or any mobile device.
Complete the course at your own pace. Log on and off whenever you want.
Receive your certificate. Instant certificate delivery available for last minute due dates.